Photo exhibition «Latvians in Sweden: 1944–1990, Photographer Fricis Forstmanis»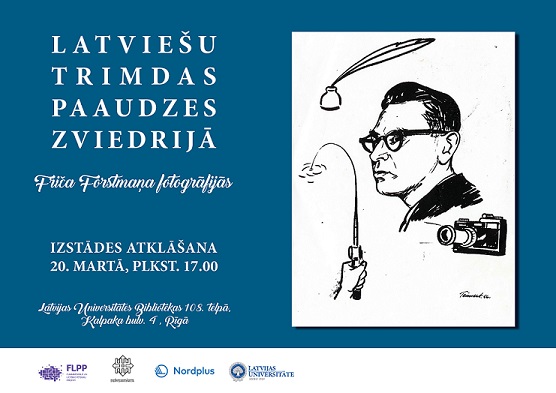 Fricis Forstmanis (1906–2004), better known as the poet and translator of poetry Fricis Dziesma, left Latvia in November 1944 in a refugee boat to go to Sweden. During his life, Forstmanis has been not only a poet, journalist, librarian and bookbinder, but also a talented photographer who has used his camera to document both Latvian exile activities in Sweden and create expressive portraits of his contemporaries.
The exhibition shows a small but unique part of Fricis Forstmanis cultural-historical collection. Latvians from different countries took part in the creation of the exhibition: Māra Strautmane and Petra Iniņberga from Stockholm, the author's daughter Līvija and son Tālis, who lives in Canada, helped to provide photo negatives.
Aija Priedīte, the former head of the Baltic Department at Stockholm University, discussed the memories of different exile generations on the opening of the exhibition.
---
The exhibition is one of the activities of the Latvian Science Council's research project "Narrative perspectives on intergenerational transmission of memory", carried out by researchers from the Oral History group of the Institute of Philosophy and Sociology, University of Latvia, in cooperation with Andrejs Eglītis Latvian National Foundation and the University of Latvia Library. The exhibition is funded by the Nordplus project.